Baby's identification
❤ Name: Boyd
❤ Gender: Baby Boy (Vinyl body), No Gender (Cloth body)
❤ Height: 20 inches
❤ Weight: 1.34 kg
❤ Hair: Hand-rooted mohair or synthetic hair, brown hair
❤ Eyes: Eyes closed, like a sleeping baby
❤ Eyebrow: 100% pure hand-drawn
❤ Nail: 100% handmade nails, pink nail bed, translucent nails
❤ Scent: A soft baby powder scent
❤ Reborn Doll Series: Levi
Details about this baby:
(1)Baby Doll Has 2 Kinds Of Body Material To Choose From
Cloth body
Cloth body dolls have no gender. The babies' shoulders and body are made of high-quality cotton, and the interior is filled with PP cotton; the arms and legs are made of gentle touch vinyl, and the limbs are not detachable. They can sit and lie down easily but can't stand or take a bath.
Vinyl body Boy
It's a boy! These babies' bodies and limbs are made of gentle touch vinyl, and their limbs are detachable. They can easily sit and lie down. Also, they can be put into water, so you can bathe them.
(2)SIZE - 20''/50.8cm from head to toe, with a soft touch of the vinyl head, face, and limbs, weighted body for a real baby feel and the kids can hand her to everywhere.
(3)HAIR - Hair can be washed and dressed. If the hair is a little messy, please use the special wig comb to take care of it gently.
(4)SAFETY CERTIFICATION - Conforms or exceeds the safety requirements of ASTM F963 and EN71 for ages 3+, which is safe for your children.
(5)GREAT FOR - Festival gifts, birthday gifts, children play with toys, grandpa or grandma accompany doll, lovers and collectors collection.
Attention:
The doll's clothes in the picture are only used for shooting, the clothes are not in stock, so the doll's clothes will be randomly sent. Detailed information is in accordance with the final product.
Package (Free Gift: Baby's Bottle And Pacifier)
❤ 1 x Baby doll
❤ 1 x Baby's clothes
❤ 1 x Baby's bottle
❤ 1 x Pacifier
Strong demand is expected, and you won't want to miss out. Order now.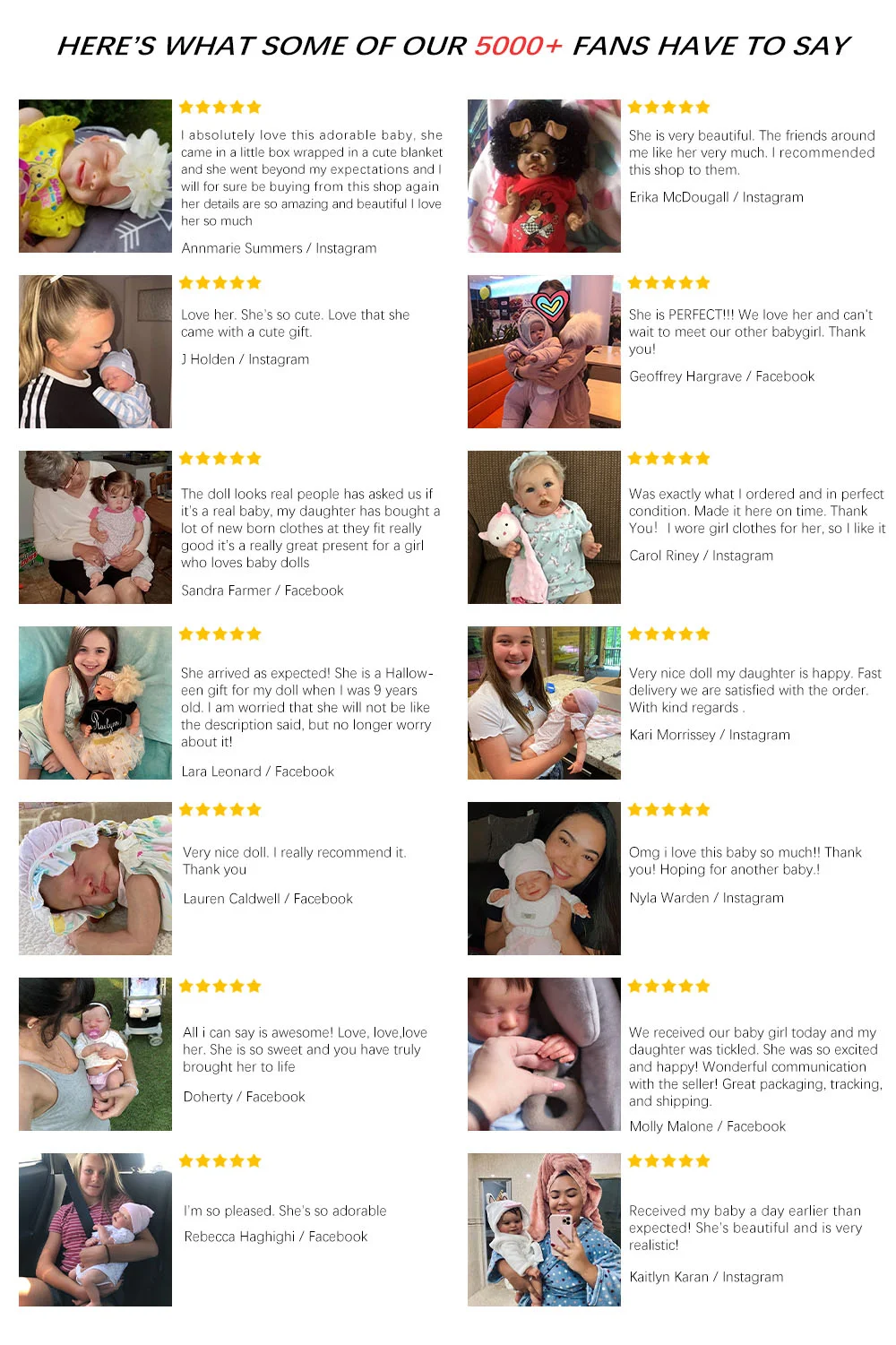 Dears: Due to the epidemic, the worldwide logistics costs in the market are rising. We are forced to increase the delivery fee a little bit.


1. Can I change the destination country of my order?
After your order has been sent out, you may not change your shipping address.
2. How much is shipping?

We recently lowered the shipping cost,to Offer you the biggest discount.
For Standard Shipping United States /Canada 3-7days; For Standard Shipping EU/AU/NZ 8-12days

(It may be delayed for 3-5 days due to irresistible reasons such as the epidemic).
Shipping cost to the United States/Other countries and regions(Standard Shipping): $21

Shipping cost to UK(Standard Shipping): $17

Shipping cost to AU/NZ(Standard Shipping): $22
Shipping cost to Canada(Standard Shipping): $25
Insurance fee(+$5) We will reship your package immediately at no extra charge if it's reported damaged or lost
Free shipping over $129

3. How will I know my order has shipped?
We make your reborn doll after you ordered to make sure every detail.
The painting time is about 1-2 days.
Then we will ship it. Once it has shipped, we will send you an email.
Sorry for the long wait, but your doll will be worth the waiting.
For Standard Shipping United States /Canada 3-7days; For Standard Shipping EU/Australia 8-12days

(It may be delayed for 3-5 days due to irresistible reasons such as the epidemic).
The delivery company is usually FedEx, Yun Express, you could track the number when your reborn doll has arrived in your country.
4.Do you ship internationally?
We happily fulfill international orders! Our production time will be the same and shipping costs vary depending on where the order is going. Depending on your home country a customs tax may be applied in addition to your shipping cost.
5.Please note:
At this time, we do not ship to APO/FPO addresses or college dorms. Shipments to Alaska, Hawaii, or Puerto Rico may exceed normal delivery times.
Expedited shipping is not offered to P.O. Box shipping addresses.
We do not offer overnight shipping.
If you have any questions, please feel free to contact us via email:service@dollishreborndolls.com